Simply Audio is dealer geworden (de enige in Nederland) van Phasemation, voorheen bekend als PhaseTech. Phasemation is het bedrijf van de Japanse engineer Kyodo Denshi.
Sinds 1970 brengt deze ontwerper zeer goede maar ook zeer kostbare apparatuur op de markt.
De reden waarom wij dit merk zijn gaan voeren is vanwege hun excellente step-up Trafo's (SUT).
 Om een betaalbaar upgrade pad te bieden aan onze klanten met MM phonostages van o.a. Remton & Graham Slee heeft Simply Audio deze producten opgenomen. De aanschaf van een nieuwe kostbare MC phonostage is dan niet nodig. Bovendien zijn wij van mening dat een goede step-up trafo de manier is, om het vaak lage tot zeer lage MC signaal te versterken. Passief dus en niet actief. Een goede trafo is qua klank onverslaanbaar t.o.v. een actief systeem.
Het versterken van het lage signaal uit een MC element kan men op 2 manieren doen. Actief middels een MC pre phono amp, vaak voorzien van meerdere versterkings-trappen of middels een trafo. Deze trafo moet dan wel zeer goed van kwaliteit  zijn en juist daarom hebben wij voor Phasemation gekozen. Zeer goed en bovendien betaalbaar. Zo "Simply" is het.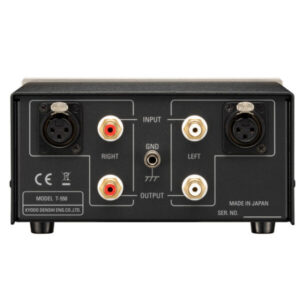 De Phasemation SUT's klinken naar onze mening duidelijk een klasse beter dan bijvoorbeeld de Ortofon's, Denon's, etc in de prijsklasse onder de 1000 euro.
Wij hebben de T-320 en T-550 trafo's op voorraad. Qua prijs-kwaliteit verhouding naar onze mening onverslaanbaar. Via ons Try before you buy programma kunt u deze SUT thuis beoordelen en eventueel vergelijken met de SUT's van Denon, Ortofon, of andere merken.
Door de goede ervaringen met de trafo's zijn we ook gaan spelen met het PP-200 element. De PP-200 is weliswaar het "instap" model van hun MC elementen, maar deze blijkt in zijn prijsklasse onverslaanbaar qua, klankkeur en dynamiek.
Op onze website tonen wij alleen de producten die we zelf op demo hebben staan. Helaas kunnen we niet alles op de plank leggen. De overige Phasemation producten, mc elementen, phonostages, buizenversterkers zijn uiteraard wel via ons, als enige dealer in Nederland leverbaar. Informeer daar bij ons naar indien u interesse heeft.